1100 Lake Street, Suite 120, Oak Park, IL 60301
Oak Park | 708-848-3159
DuPage County | 630-852-9700 Mokena | 815-727-6144
Contact Our Firm
NOTE: Fields with a
*
indicate a required field.
How would you prefer to be contacted?
E-Mail
Phone
No Preference
Briefly describe your legal issue.
*
The use of the Internet or this form for communication with the firm or any individual member of the firm does not establish an attorney-client relationship. Confidential or time-sensitive information should not be sent through this form.
I have read and understand the Disclaimer and Privacy Policy.

Can Same-Sex Couples Adopt a Child in Illinois?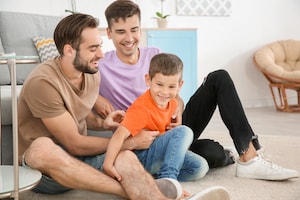 Statistics show that more and more same-sex couples are adopting. In fact, homosexual couples are four times more likely to be raising an adopted child and six times more likely to be raising foster children than their heterosexual counterparts. LGBT families are most commonly created through the adoption process, and same-sex adoption is now legal in all 50 states. If you are in a same-sex relationship and wish to adopt a child in Illinois, a family law attorney can help you navigate the legal proceedings to realize your dream of becoming a parent.
The Adoption Process
In general, the adoption process for same-sex couples is no different than it is for heterosexual couples. Under Illinois law, adoption placements (as well as foster care placements) are determined based on what is in the best interests of the child. The sexual orientation of the potential parents is not a factor in determining whether to grant consent for adoption.
A couple may adopt if they are reputable, have no disability, and have been a resident of the state for at least six months. Usually, the person adopting the child must be over the age of 18, but in some cases, the court can make an exception if there is a good reason. The prospective parents (if unrelated to the child) must be fingerprinted and pass a criminal background check.
To start the adoption process, the prospective parents must file a petition in the circuit court where they, the child, or the biological parents live. The adoption petition must be filed within 30 days of when the child became eligible for adoption. The petition and a summons must be served for all involved parties. ‍‍After that, an interim order hearing will decide who will have temporary parental responsibility for the child until the adoption is complete.
‍Six months after the interim order hearing, a final hearing will take place. After reviewing all necessary reports and affidavits, the court will issue an order finalizing the adoption.
Contact an Oak Park Family Law Attorney
Same-sex marriage is more common today than it was even a few years ago, but even unmarried couples can adopt a child if they can demonstrate that they will provide them with a loving home. If you and your partner wish to adopt a child, a skilled Cook County adoption lawyer can explain the process and help you achieve your dream of growing your family. Call the experienced legal team of Wakenight and Associates, P.C. today at 708-480-9651 to arrange a free consultation and begin the adoption process.
Sources: https://www.equalityillinois.us/?s=same-sex+adoption
https://consideringadoption.com/adoptions-by-state/how-to-adopt-in-illinois
https://www2.illinois.gov/dcfs/lovinghomes/adoption/Pages/default.aspx
http://www.ilga.gov/legislation/ilcs/ilcs3.asp?ActID=2098&ChapterID=59