1100 Lake Street, Suite 120, Oak Park, IL 60301
Oak Park | 708-848-3159
DuPage County | 630-852-9700 Mokena | 815-727-6144
Contact Our Firm
NOTE: Fields with a
*
indicate a required field.
How would you prefer to be contacted?
E-Mail
Phone
No Preference
Briefly describe your legal issue.
*
The use of the Internet or this form for communication with the firm or any individual member of the firm does not establish an attorney-client relationship. Confidential or time-sensitive information should not be sent through this form.
I have read and understand the Disclaimer and Privacy Policy.

What Are the Advantages of Mediation in an Illinois Divorce?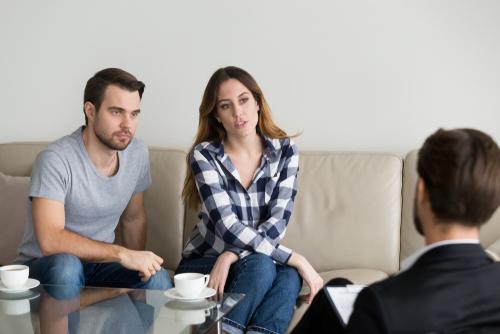 Filing for divorce or being served with divorce papers can be an overwhelming experience. There are many decisions to make, especially if you and your spouse have children together. However, if you and your spouse are able to cooperate and work together to make these decisions, the process can be completed more quickly and easily. One way of doing so is through mediation.
During divorce mediation, you and your spouse will meet with a neutral third-party mediator to work through the issues you need to resolve so the two of you can end your marriage as peacefully and cost-effectively as possible. During mediation, the two of you will work to reach agreements on issues such as child custody, spousal support/maintenance, property and asset division, and any other matters that will need to be addressed in order to legally end your marriage.
How a Mediator Can Help You
If you and your spouse are willing to communicate and compromise on the issues that will need to be resolved, divorce mediation may be your best option. The benefits of divorce mediation include, but are not limited to:
Your children come first. Divorce greatly affects your children. The mediator's job is to consider the wants and needs of all parties involved and weigh in on decisions that may affect them. Even though you and your spouse will no longer be together, you will always be parents to your children, and mediation can help you create a foundation for working together as co-parents following your divorce.

It costs less. The bills related to divorce can add up quickly. Taking matters to court for litigation involves significant court costs and attorney's fees. By using a mediator, you can avoid unnecessary costs and complete the process more efficiently.

It is less stressful for those involved. Although mediation may still have its challenges, the mediator will work to keep stress levels to a minimum and continue to keep the flow of conversation going so divorce-related issues can be resolved.

Everything discussed remains confidential. Your privacy is important, which is why nothing discussed during divorce mediation will be accessible to any outside parties. You and your spouse will be able to share everything with the mediator without worrying that it will be public knowledge.

It is less formal and more comfortable. The traditional litigated divorce is formal, high-strung, and stressful. The only people who will be in the room with you during divorce mediation is you, your spouse, and the mediator.

It is based on you and your spouse's needs. Your divorce mediation will be tailored to fit and resolve the issues that are unique to your situation. The mediator will work alongside the two of you to provide a personalized process.

It gives you and your spouse more control over your decisions. During divorce litigation, a judge will decide the outcome of certain issues. During divorce mediation, the decisions are entirely up to you and your spouse, allowing you the freedom to reach a fair resolution that will meet your family's needs.
Contact an Oak Park Divorce Mediation Attorney
The choice to use divorce mediation is a voluntary decision that you and your spouse may agree on to help you resolve important issues. Whether you and your spouse are on the fence about using a mediator or are willing to give it a shot, the attorneys at Wakenight & Associates, P.C. can help you decide the best steps you can take. With more than 95 years of combined experience in family law and divorce matters, our skilled Cook County divorce lawyers will guide you through the mediation process and help you finalize your divorce. Call our office today at 708-848-3159 to schedule your free consultation.
Source:
http://www.plannersearch.org/financial-planning/the-advantages-of-divorce-mediation