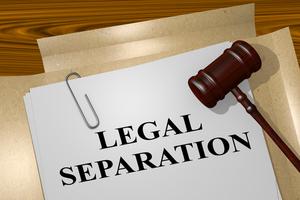 When a marriage reaches a breaking point, many people turn immediately to divorce. For others, that is not the outcome they want to pursue, so they may instead choose legal separation. Reasons for separation as opposed to divorce may include religious beliefs, health insurance, or any number of other personal issues. Legally, the agreements that spouses must make are very similar whether they have opted for divorce or legal separation, although there are a few differences.
What is Legal Separation?
While some couples may choose to separate temporarily and see if they can still work things out, a legal document does not need to be signed for that. Legal separation is a more permanent decision. One must file for it in court, just like a divorce. The spouses must draft a written agreement similar to a divorce settlement, addressing child custody and support, alimony, property division, and other relevant matters. The legal separation agreement must be signed and approved in court.
In a legal separation, however, the parties are still legally married. One of the benefits is that either spouse can remain on the health insurance of the other indefinitely. This can be invaluable if one spouse would otherwise have trouble getting affordable health insurance.
...